A Miracle In The Middle Of Bosnia
---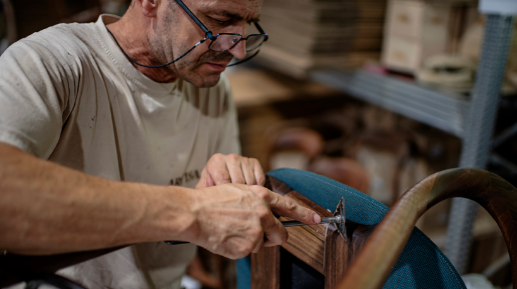 'A factory of luxury designer furniture that became a world hit.
We wanted to bring you some excerpts from a recent article by Telegram + written by Petra Smoljak – a rare insight into the world of Artisan – its origins + its success.
"Wood is our family tradition", Mirza Ćostović tells us as we drive along the narrow hilly paths towards the first location where the whole production process starts. He explains that Artisan has its roots in their small family workshop, which started processing wood in Yugoslavia in the 1970s. At that time, there was no industrial electricity in the village, so they made carpentry, paneling, floor and wall coverings by hand, and his uncle Fadil Ćostović , one of the owners of Artisan, started shaping wood and working in that workshop as a kid".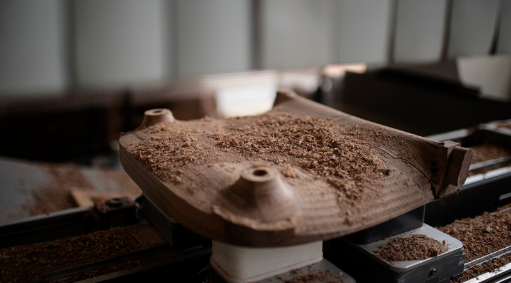 "We use European walnut, oak, elm, cherry, maple, and ash wood, and we supply them from Bosnia, Serbia and Croatia. We also make furniture from American walnut, which we order from the USA" he says as we head towards the place where the sawn boards dry naturally.
"Did you feel it blowing here all the time?" Edo interjects, explaining that the constant wind flow is the reason why they decided to set up primary processing right there, at the top of the hill. "We have very good conditions for natural drying here." He explains that the whole process – from cutting wood in the forest to installation in the final product can take up to a year.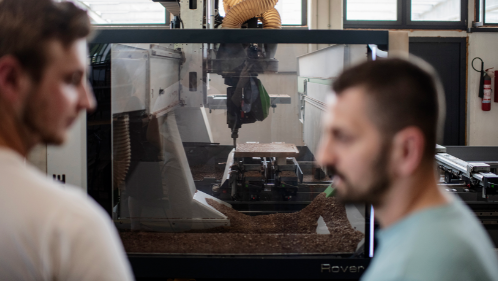 The special feature of Artisan products is that they are handmade. Once a piece of wood comes out of machining, everything is done by hand. "Our craftsmen hand-glue and join the parts, and then the final processing begins, ie fine sanding and finally oiling," says Mirza, adding that Artisan is one of the few companies in Europe that controls the entire production process itself. He also explains that with the advent of modern machines, this type of furniture has become an affordable luxury.
If you have a project in the works that we can assist you with, we'd love to hear from you!