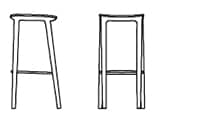 Collection: Neva
Designers: Regular Company
---
Dimensions: H45cm, 65cm and 79cm x W39cm x D41cm
Seat Dimensions 40cm x 38cm
Specification:
The Neva Bar Stool is part of Artisan's iconic Neva Collection. An elegant, fluid piece for commercial and residential settings. German Design Award Special Mention, Design Intelligence Award, Restaurant & Bar Product Design Award.
The Neva Barstool is footrest is available in a RAL powder-coated finish – black or white with custom colours and aged brass upon request.
Artisan pieces are available in a choice of seven different sustainably sourced timber species – European Oak, European Walnut, American Walnut, Elm, Maple, Cherry and Ash. The furniture is finished with environmentally-friendly finishes including natural oils and soap which emphasise the luxurious and organic beauty of the wood grain – creating colour diversity.
We offer a wide range of upholstery options and colours.
Kvadrat are leaders in the industry of textile design, internationally renowned and progressive in design, committed to continuously pushing the boundaries of aesthetic, creative, and technological advancement. Their upholstery fabric is of the highest quality. Select from Steelcut Trio 3, Remix 3 and Revive 1 Collections.
Dedar is an Italian family-run fabric house that expresses a personal style with its cutting-edge contemporary collections. Located close to Como, in the heart of a manufacturing district. Dedar experiments and innovates to attain product perfection through an ongoing dialogue with those craftsmen and textile specialists. We carry their Adamo & Eve velvet and Karakorum bouclè collections.
We have three levels of leather options – each in a wide selection of colours.
The Gruppo Zenith collection by Mastrotto is corrected and embossed, with a thickness of 0.8 – 1.0 mm. Finished using a water-based system, the leather has a pigmented and protective topcoat with a soft feel and a silky matte finish, perfect for upholstery.
Stolz Select: Semi-Aniline Pigmented Nappa leather with a smooth grain structure originating from Scandinavian bull hides. The thickness is 1.2 / 1.4 mm.
Stolz Vegetal: Originating from Scandinavian bull hides with an Aniline surface and a smooth structure.